Our Clients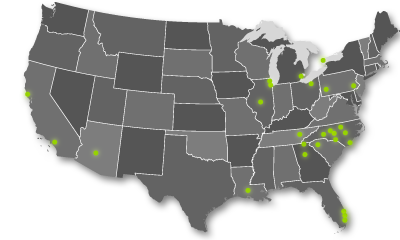 Even though our graphic design studio is based in Greensboro, NC, we are proud to serve clients located throughout the United States and Canada. As long as we have an Internet connection and a phone, we can help our clients with their needs wherever they're located. We've included a map so you can view where most of our clients are located.

Testimonials
Don't take our word for it. When we say we're committed to driving our clients' success, the best evidence is our track record. Read below to see what our clients have to say.
---
Jeremiah Cook, Varrow, Greensboro, NC
"G4G has always been there for us to provide us with creative designs and professional printing services that help us in all the marketing aspects of our business, from logos to business cards, web design, t-shirts and signs for trade shows. We started with G4G when we had only 3 employees and now we have 50. Even with our increased demands, G4G still consistently delivers great results for us and they are super fun to work with."
---
Jeanne Kerl, Online Marketing Manager, Zoobooks magazine and
Marketing Manager, Kindermusik International, ABC Music & M, Evanston, IL
"Dawn is extremely professional. She listens well, plans ahead, makes timely suggestions, and produces thoughtful content. I enjoy working with her because she's straightforward and personable, too."
---
Linda Lynch, DLH Nordisk, Greensboro, NC
"G4G Interactive, Inc. has done a great job designing our magazine ads and calendars. They are always prompt when we have questions and they're a pleasure to work with."
---
Deborah Bryant, Bryant Marketing, Greensboro, NC
"I was lucky enough to meet Dawn when I started my own Marketing Consulting Firm several years ago. Without Dawn, I would not have been able to bring my business to the next level. Dawn is a very talented graphic designer and web designer. She stays up on industry trends and alway has tips for the best design methodology for a project. Anyone that needs any kind of graphic design work should absolutely talk to Dawn. Dawn is excellent a collaboration and is an interegal part of the Bryant Marketing team. "
---
Cathi Vogel, Velocity Trade Exchange, Greensboro, NC
"G4G Interactive has done all of our graphic and web design work since we began in 2007. We are frequently asked if we are a franchise due to the quality of our materials. Dawn works well with our ideas. Over time, we've developed a "groove" and have become more and more efficient in our project completion so that we're able to make each project be far more cost effective while maintaining a high level of quality than we'd find by continually price shopping."
---
Kerri Sneed, Starboard Accounting Services, Winston-Salem, NC
"We have been using G4G Interactive for many years for our graphic design needs. Dawn is absolutely splendid to work with! She has great taste, and is really easy to communicate with. I love that I can come to her with a general idea, and she pulls it all together into something that looks awesome! Not only is she great at design, but she really understands marketing, and offers great advice on the best way to present our company."
---
Spencer Ferguson, Association Management Group, Greensboro, NC
"As someone who is routinely on a time crunch, it is very assuring to know that G4G will accomodate my needs in a timely and professional manner. I don't know what I would do without Dawn and her staff!"
---
EJ Schwartz, DataChambers, Winston-Salem, NC
"Dawn is a real pleasure to work with. She's incredibly fast and has real rapport with my design needs. Large projects finish on time and under budget and small jobs are frequently turned around the same day with a single draft!"
---
Corrie Lisk-Hurst, The Better Editor, Greensboro, NC
"Dawn Mitchell of G4G Interactive is not only a skillful and experienced graphic designer, but she's also a terrific design resource and a great project manager! I routinely recommend Dawn to my clients--whether they need to rejuvenate their website, create a new logo, or develop other marketing materials. I have found Dawn to be organized, thoughtful, and responsive. She's assertive about what she knows will work for her clients, but she's willing to call in other experts when she "knows what she doesn't know"...a true sign of wisdom.

Dawn seems to have a gift for making her clients happy. Whether you're a small non-profit or a large international firm, she'll help you create the visual tools you need, on-time and within your budget. "
---
Dean DiMaria, Owner DMD Marketing & Sales Group, Greensboro, NC
"G4G Interactive is providing us high quality and innovative design work from websites to brochures. Their work is top drawer!!"
---
Corliss McGinty, Soft Solutions, Greensboro, NC
"I had Dawn do my book cover and she is fantastic. I mean really, to deal with all my changes and to try to tie down a vision takes a superwomen and Dawn rose up to the task! Now if I could just the the editor to get a move on, it will be published!!"
---
Kenneth Lavely, Owner Snaptech LLC, Kernersville, NC
"Dawn and G4G have been invaluable to my company. They've been helpful with everything –from designing a business card to assisting with more complicated matters. It's great to have someone that can guide me in both graphic design as well as marketing. Dawn is truly a credit to her industry."
---
Ann Richards, marketing professional for Next Gen CFO, Greensboro, NC
"Dawn is the ultimate professional. She communicates clearly and produces the work that is requested of her by the client. She explains her design process so there are no questions or surprises regarding the final product. She is always pleasant even under pressure."
---
Francine Mason, Greater Fort Lauderdale Convention & Visitors Bureau, Fort Lauderdale, FL
(personal recommendation)
"It is with confidence and enthusiasm that I recommend Dawn Mitchell for any type of graphics-related position. I've had the pleasure of working closely with her for many years on a project-basis for all of our projects... In all instances, Dawn was responsible for layout, design and execution of each project – a daunting task with three annual publications launching simultaneously. It takes an organized mind (and desk!), creative spirit and abundance of patience to make this happen successfully year after year. We are a very hands-on client, with major creative input, continuous editing and have been known to change gears frequently as projects are underway. And every step of the way Dawn was able to keep up with us, provide good solutions, quick turnaround and present a winning finished product that we are proud of. If you are looking for a loyal, hard-working, tech savvy and creative person who immerses herself in each project, Dawn fits the bill."
---
Jack Clemmons, Piedmont Corporate Impressions, Greensboro, NC
"The process of creating newletters can potentially be difficult-both in time and expense. Working with G4G was fun and painless. Thanks for your help!"
---
Cheryl Hucks, Casual Elegance by Cheryl, High Point, NC
"I would highly recommend Dawn because she is very knowledgable in all aspects of graphic design. She has developed branding for my interior decorating business,Casual Elegance by Cheryl, through my logo, letterhead, business card, rack card, carwrap, ezine template and website. Dawn exhibits patience and concern for her clients. She is a beautiful person who does beautiful design."
---
Rich Gunther, Ovo Studios, Greensboro, NC / Chagrin Falls, OH
"My company has been working with G4G for about five years, and we use them for our web design, print materials, ads, and tradeshow displays. The staff at G4G are talented, timely, and experienced. They really make an attempt to understand our brand and what aspects of our solution we want to market. I'd recommend them to any company looking for a solid design vendor."
---
Jim Burns, insTand Products, Fort Lauderdale, FL
"Hello Dawn – I just wanted to write a short note to thank you for your usual prompt response. As always, the service and quality are unsurpassed. My compliments also on your creativity and your design skills. The Bag-Mate display tag came out beautifully. Also, with the help of technology and your always timely response, working with you out-of-state is no problem at all. The only issue is that I no longer get to see your lovely face. Thanks so much for the long-term, high-quality relationship."
---
Stewart Padveen, Firmagen Labs, Boca Raton, FL
(personal recommendation)
"Dawn Mitchell has worked on my design projects for about 3 years. During that time, she has done a truly outstanding job in designing my packaging and promotional materials. She is easy to work with, and consistently delivers great quality. I would work with her again without hesitation, given the opportunity."
---
Carlos Leo & Alfred Padron, PL&P Advertising, Fort Lauderdale, FL
(personal recommendation)
"Dawn Mitchell has been an indespensable part of the PL&P Advertising family since 1997. When she told us she was moving to North Carolina, we planned various ways to sabotage her trip, including pouring sugar in her car engine. Ultimately, common sense prevailed, and we undid the shackle on her ankle and let her go.

Dawn is a consummate professional, a superb designer, and a great team player. Over the years, her wonderful abilities have helped us meet many impossible deadlines and kept our clients very happy. To say that we are going to miss her personality and her talents would be a gross understatement. While this is a great loss for us, it should be an incredible opportunity for some very lucky advertising agency or graphic design agency in North Carolina. Whoever is reading this message, hire her! It will be one of the best professional moves you've ever made."
. . . : : :
Back
: : : . . .